A Brief History of Shinsengumi
ooooShinsengumi is the name given to a group of the valiant samurai who joined together in Kyoto and formed a sort of police troop to maintain peace and the traditional governing style in 19thC. This period was critical for Japan because of the Western influence and the numerous adversarial clans who held conflicting views on Japanese politics. The Shinsengumi were involved in the Civil War, and succeeded in delaying the tide of revolution for a short period of time.T_T Most of the members were executed after the new government came into power, but some fled to continue fighting in different parts of the country. Some members died short afterwards whereas some others survived through a series of internal changes and lived into their old age…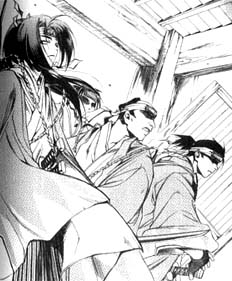 Peace Maker is © 1999-2001 by Kurono Nanae and Enix Corp.
Introduction
Story
History
Characters
Images
Links
Email